+1M satisfied patients

OSHA-approved guidelines

CDC-approved guidelines

Tri-state leader in COVID-19  testing
Service Details
About the COVID-19 vaccine and booster for kids
As soon as COVID-19 vaccine doses became available, Nao Medical (formerly Statcare) distributed them according to the guidelines set by the New York Department of Health and CDC. Get your child vaccinated at any of our Nao Medical clinics. We are committed to helping ensure that your child is safe and protected against the severe effects of the COVID-19 virus.
How much do COVID-19 vaccine and booster for kids cost?
Vaccines will be administered with no out of pocket cost for our patients in all our COVID test locations in NY. All authorized vaccines and boosters are free for anyone in the United States.
To read more about COVID-19 vaccine and booster cost, check out the Centers for Disease Control and Prevention (CDC) website.
Other services offered: COVID-19 tests for kids
Aside from the COVID-19 vaccine and booster, we also offer COVID-19 tests for kids, whether you have an insurance plan or not. We offer RT-PCR testing, rapid testing, and antibody testing for children on-site or in any NAO Medical clinic in NY.
To learn more about COVID tests, you can check the CDC website.
FAQ
Does the COVID-19 shot work if we need a booster shot?
Yes. The COVID-19 shot works even if we need a booster shot. Public health experts noticed that the vaccine's effectivity against mild and moderate disease may reduce over time. The booster is designed to increase the protection we have against the COVID virus.
Are COVID-19 booster shots effective at preventing severe illness with COVID-19?
COVID-19 booster shots are effective in preventing severe illnesses in both children and adults.
What COVID vaccines and boosters are available for kids?
The FDA gave the Pfizer-BioNTech COVID-19 vaccine emergency use authorization (EUA) in children ages 5-15 years old. The FDA gave full approval to use the Pfizer vaccine in people ages 16 years and older.
The Moderna vaccine, on the other hand, is only authorized for use in individuals 18 years old and older. Children 5 to 11 years old are still not eligible for booster shots. Children 12 to 17 years old can get the Pfizer-BioNTech booster at least five months after their second vaccine dose.
Individuals 18 and above can get either a Pfizer or Moderna booster shot. These vaccines and boosters are available at all Nao Medical clinics across New York.
Is the COVID-19 booster stronger than the first two vaccines?
The COVID-19 booster is not stronger than the first two vaccines. In addition to the first two doses, it helps provide greater protection against the virus, especially against the Delta and Omicron variants.
Can kids still get COVID-19 after having the vaccine?
Kids can still get COVID-19 after having the vaccine, but the vaccine offers benefits such as milder symptoms and quicker recovery.
Who should not take the Pfizer-BioNTech COVID-19 vaccine?
Your child should not take the Pfizer-BioNTech COVID-19 vaccine if he/she has a severe allergic reaction to any ingredient in the vaccine. Learn more about COVID-19 vaccines and allergies here.
Home care health services
At home, at work, or wherever you are, Nao Medical will provide you with the care you need at no additional cost. We provide access to personalized medical care to help with your healthcare needs.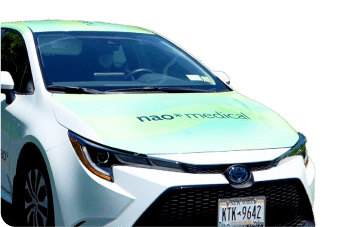 Virtual care
We offer top-tier virtual care that works with your busy schedule. Our virtual care is made to get you quickly connected with a medical provider who will provide you with comprehensive care.
Healthcare coordinator
A free personal medical coordinator to guide you through your healthcare journey that helps with everything from booking appointments to sending you upcoming appointment reminders, and more.

Offer guidance to help you navigate the healthcare landscape

Provide suggestions for healthcare visits that are tailored to your needs


Stay Healthy Nao
Be proactive about your health and stay on top of important preventative appointments.
Nao Medical's Stay Healthy Nao program makes taking care of your health easier than ever.
We know how easy it is to neglect our personal health, with the busyness of daily life often getting in the way. Statistically, people today take more care of their cars and their pets than they do their own health!
But with Nao Medical, taking charge of your personal health has never been easier. With Nao Medical's Stay Healthy Nao program, you get:
[review_slider limit="12" ratings="4,5"]