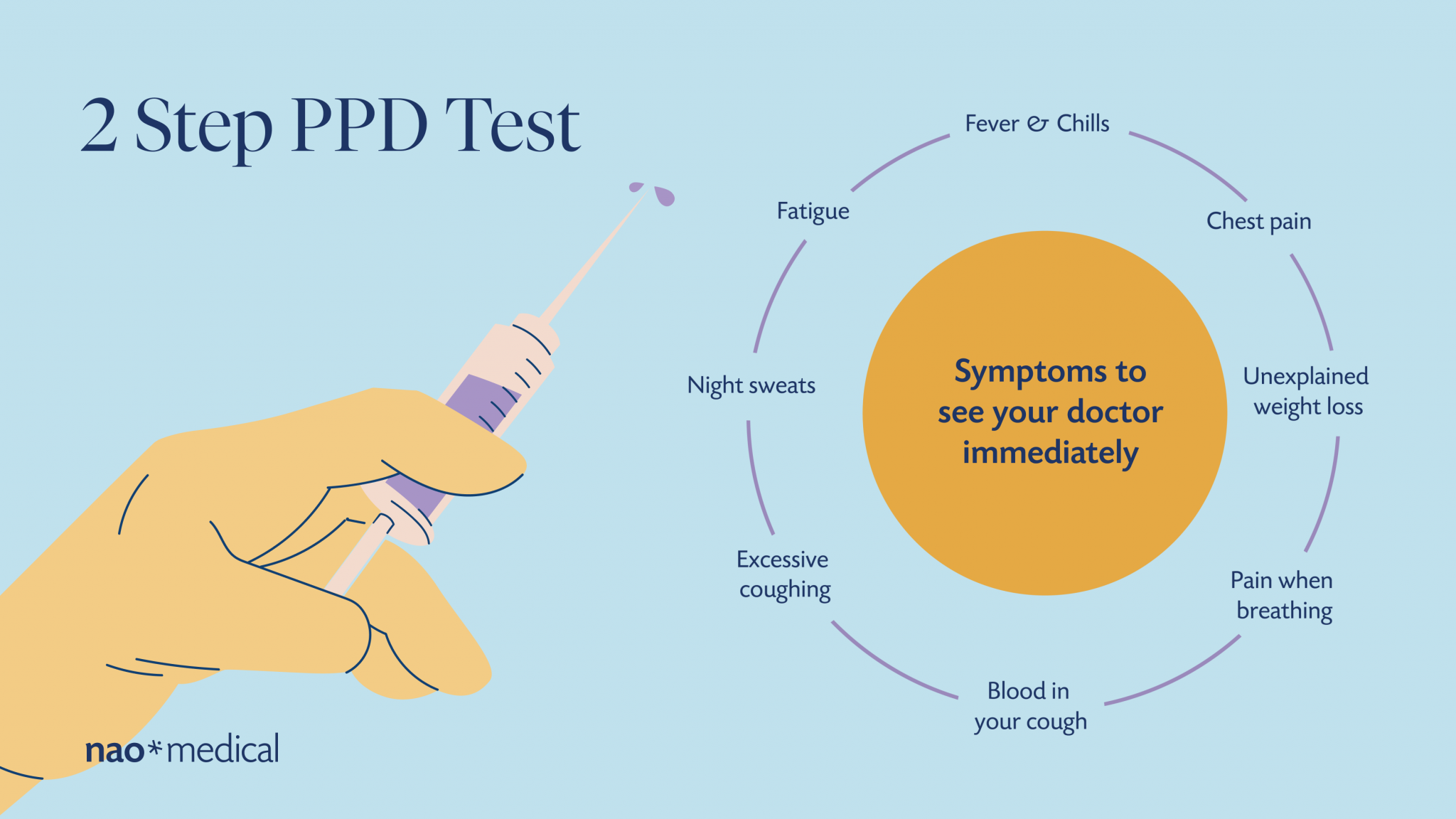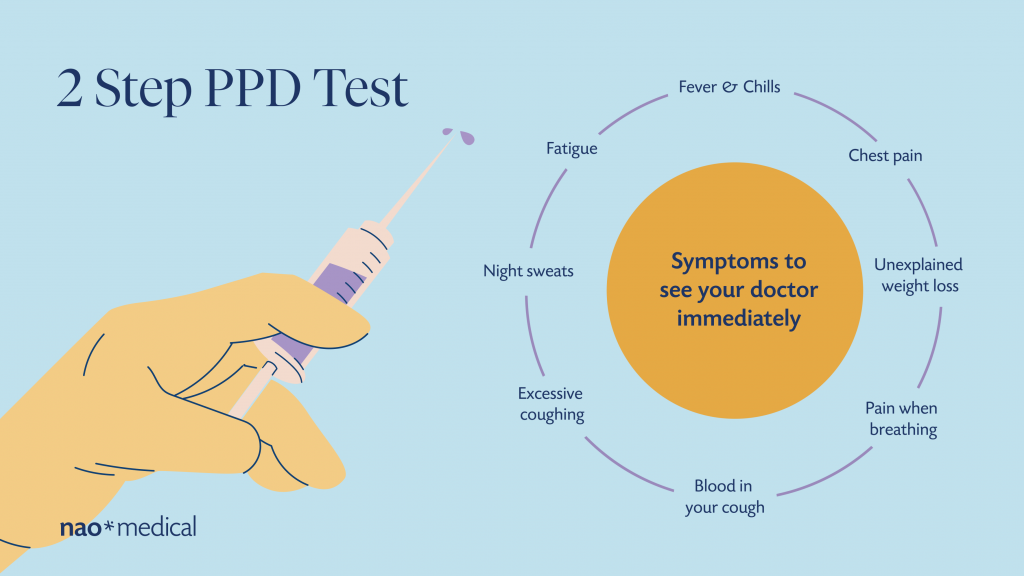 Tuberculosis is a contagious infection that primarily affects the lungs but could potentially affect the brain, kidneys, and spine at its worst. When an infected person sneezes, coughs or speaks, the bacteria called Mycobacterium tuberculosis could infect nearby people who breathe it in.
In the early 1900s, TB was the leading cause of mortality in the United States. TB case counts were highest in California, Texas, New York, and Florida. These four states account for almost half of the total cases in the US. Thanks to advances in treatment and prevention, we've seen dramatic decreases in cases every year.
You are more likely to get TB from someone in your home or the workplace than in public places. If those tests show no active illnesses, you should take preventative measures like a 2-step Purified Protein Derivative test, especially with healthcare workers. But what is a 2-step PPD test? And why should you get one?
What is a 2-step PPD test?
A PPD test is a screening method for checking if a person has active or latent tuberculosis. People who have had unknown exposure to TB in the past may get a false negative reaction to this test because their bodies' ability to react may diminish over time.
A 2-step PPD test is for people who need to get retested regularly, like healthcare workers, because repeated exposure could reduce skin sensitivity to PPD. The first skin test aims to stimulate the immune system so that the second skin test would be able to generate more accurate results.
Individuals who received the Bacillus Calmette-Guerin vaccine are more likely to get false positive results after a PPD or 2-step PPD test. If you received a BCG vaccine anytime in your lifetime, an Interferon-Gamma Release Assays blood test called IGRA is a better alternative when testing for tuberculosis.
How to do a 2-step PPD test?
In a nutshell, a doctor injects a small amount of purified protein derivative into a patient. After a few days, the doctor will measure the size of the skin reaction. A second skin test is done weeks after the first. The second skin test enhances the accuracy of the test, producing a correct response.
Here is a more detailed look at the 2-step PPD test process:
The doctor will ask you questions about your medical history, recent activities, and previous places you've been.
The doctor injects a small amount of PPD into the skin's surface on your forearm. You are then sent home and can resume normal daily activities.
You need to return to the doctor between 48 to 72 hours (2 to 3 days), so they can take a look at the injection site.

If there's no skin reaction, you'll immediately be scheduled for another PPD test within one to four weeks later, preferably between 7 to 10 days.

If it shows a positive reaction, it's an indication of TB. You would need to go through a chest x-ray and a medical evaluation. You'll be scheduled for another PPD test if those tests show no active illnesses.

On the second PPD test, The doctor injects PPD again into the skin of your forearm. You are then sent home and can resume normal daily activities.
When you return between 48 to 72 hours (2 to 3 days), the doctor will take a look at the injection site.

If the result is negative, there's no TB infection.

If it's positive, you need to go through a chest x-ray and medical evaluation.
How the test is interpreted
Healthcare professionals base results on the bump's size. Refer to the table below to further understand skin reactions, as per the Centers for Disease Control and Prevention:

SIZE OF THE BUMP
RESULTS
Less than 5mm
Negative for TB
At least 5mm
Positive if:
If the person recently had contact with someone who has tuberculosisIf the person has HIV/AIDSIf the person has had an organ transplantyou're using immunosuppressive medicationsIf the person has a history of tuberculosis
At least 10mm
Positive if:
If the person recently moved from a place with a high number of tuberculosis casesIf the person resides in a high-risk areaIf the person works in a hospital, a medical laboratory, or another high-risk environmentIf the person's under the age of four years oldIf the person has experimented with injected drugs
15mm or more
Positive for TB
Is tuberculosis testing required?
A few job industries require tuberculosis testing as part of pre-employment physicals for all employees. Workplaces such as hospitals, schools, prisons, and pharmacies are more vulnerable to the quick spread of TB. A TB skin test is recommended for children five years of age and below. There's no risk associated with tuberculin skin tests unless it involves severe reactions, so you can safely take the test as often as necessary.
Health experts recommend TB tests for people at a higher risk of developing a TB infection. Get tested if:
You spent some time with someone who has TB
You came from places where TB is prevalent (e.g., Latin America, Caribbean, Asia, Africa, Russia, and Eastern Europe)
You work in settings with high-risk of TB cases (e.g., nursing homes, homeless shelters, correctional or long-term care facilities)
You are a healthcare professional caring for TB patients
You have HIV
You had TB in the last two years
You used or are using illegal drugs
You have a weak immune system
You have a medical condition that weakens your immune system
Do I need a 2-step PPD test?
The World Health Organization estimated that one in four people with TB goes undiagnosed. To keep yourself healthy, you should routinely get tested for TB.
If you've had TB in the past and suspect that you've been exposed to it again, a 2-step PPD test is a highly recommended testing method. But even if you've never had tuberculosis, you can still request this test from your doctor. Since it's more accurate, it'll help you avoid a false negative result.
Remember to see your doctor immediately if you've been around someone with TB or if you start exhibiting the following symptoms:
Fever
Chills
Unexplained weight loss
Excessive coughing
Blood in your cough
Pain when breathing
Chest pain
Night sweats
Fatigue
What to expect from a 2-step PPD test
A 2-step PPD test requires an extra appointment, so make sure to plan for that timeline if you're scheduling an appointment for the test. It can be a concern for some people as many medical offices aren't open on weekends and holidays. Fortunately, an urgent care center can help make it easy for you to make appointments on your terms. They're often open every day of the week, including holidays, for extended hours.
You may need to repeat the test if you don't get a doctor to have it read within the 48- to 72-hour time frame. Be aware that if you get the test done at one practice, you may not be able to go to another location or doctor to read your results.
The test only involves a pinch-like pain when the doctor injects the PPD. There should be no side effects except for the skin reaction at the injection site. Call the doctor immediately if you experience severe allergic reactions.
Should you get tested?
If you're at a high risk of contracting TB or just want the peace of mind of knowing that you're not infected, you should get a 2-step PPD test. While a PPD test is still reliable, a 2-step produces more accurate results. Although there are just a few active cases in the US today, it doesn't discount the fact that you could still get infected.
Since this type of test involves two skin tests and scheduled readings, make sure to allot appropriate time for you to complete the entire process. Contact an urgent care center near you for available schedules. Book an appointment on the phone or online and make the necessary adjustments to your personal and work schedules. Remember, your health always comes first.