Certified provider
In and out in 30 minutes
No referral required
+1M satisfied patients
OSHA-approved guidelines
CDC-approved guidelines
Tri-state leader in COVID-19 testing
Service Details
About COVID-19 rapid test near me
The rapid COVID-19 test will be used along with a healthcare provider's guidance and counseling to ensure patients' safety. The rapid antigen test in use at Nao Medical (formally Statcare) is clinically known as the Sofia 2 SARS Antigen FIA.
How much does the rapid COVID test cost?
Your out-of-pocket cost for COVID testing is based on your specific insurance coverage and plan. It is the patient's responsibility to contact your insurance carrier for details about your plan, if they are covering the costs.
For patients without insurance plans, we have same-day payment rates available in all our rapid COVID test locations.
How do I get a rapid COVID test on-site 
Patients can have rapid COVID tests done on site or with the help of our clinic, mobile team or home service. Our mobile team can host events, schools, production companies, event management companies, and sports teams to do on-site New York COVID rapid testing for all.
Other services offered: antibody tests
Aside from rapid COVID tests, we also offer antibody tests, whether you have an insurance plan or not. If you test positive, it does not mean that the virus is currently present in your body.
Instead, it means that you may have gotten infected before but your immune system was able to develop antibodies to fight it off. To learn more about antibody tests, you can visit the Department of Health website.
FAQ
Who should get tested for COVID-19?
You should get tested for COVID-19 if:
You have COVID-19 symptoms
You have been exposed to or been in close contact with a person who You know or suspect is infected with COVID-19
Within close contact (means within six feet for 15 minutes or more)
The COVID Alert NY app informs you that you've been exposed to the virus from close contact.
You need to be screened for workplaces, schools, or events
You are planning to travel or arriving from travel
You are advised to get tested by a healthcare professional or a public health official
How long should I wait to take a COVID-19 test after exposure to a known or suspected case?
You should not wait to take a COVID-19 test after exposure to a known or suspected case, regardless of your vaccination status. You need to get tested at least five days after exposure or earlier if you have COVID symptoms.
Are there any at-home tests for COVID-19?
There are at-home tests for COVID-19. You can order free tests from COVIDtests.gov or from your local health department. Home COVID tests are also available in pharmacies, retail stores, and authorized online sellers.
How accurate are COVID-19 PCR tests?
COVID-19 PCR tests are accurate and are considered the gold standard for COVID testing. This type of test is more sensitive and is mostly processed by health professionals in a laboratory.
How accurate are rapid COVID-19 tests?
Rapid COVID-19 tests are accurate enough to detect the presence of the virus in symptomatic individuals. However, if it shows a negative result despite the presence of COVID-19 symptoms, an RT-PCR test is needed to confirm it.
Can the tests determine which COVID-19 variants I have antibodies to?
COVID tests cannot determine which COVID-19 variants you have antibodies for inside you. Besides, antibodies from previous COVID infections are not likely to protect you from any type of COVID variant.
Is it recommended to take antibody tests after receiving the COVID-19 vaccine?
It is not recommended to take antibody tests after receiving the COVID-19 vaccine to test for immunity. It is also not recommended for use to assess a person's need for vaccination or quarantine.
Home care health services
At home, at work, or wherever you are, Nao Medical will provide you with the care you need at no additional cost. We provide access to personalized medical care to help with your healthcare needs.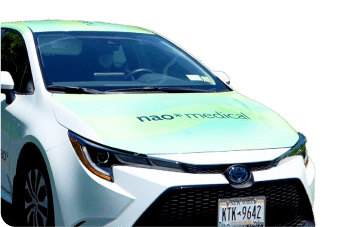 Virtual care
We offer top-tier virtual care that works with your busy schedule. Our virtual care is made to get you quickly connected with a medical provider who will provide you with comprehensive care.
Healthcare coordinator
A free personal medical coordinator to guide you through your healthcare journey that helps with everything from booking appointments to sending you upcoming appointment reminders, and more.

Offer guidance to help you navigate the healthcare landscape

Provide suggestions for healthcare visits that are tailored to your needs


Stay Healthy Nao
Be proactive about your health and stay on top of important preventative appointments.
Nao Medical's Stay Healthy Nao program makes taking care of your health easier than ever.
We know how easy it is to neglect our personal health, with the busyness of daily life often getting in the way. Statistically, people today take more care of their cars and their pets than they do their own health!
But with Nao Medical, taking charge of your personal health has never been easier. With Nao Medical's Stay Healthy Nao program, you get:
[review_slider limit="12" ratings="4,5"]