+1M satisfied patients

Open seven days a week, 365 days a year

In and out in 30 minutes

OSHA-approved guidelines

CDC-approved guidelines

Tri-state leader in COVID-19 testing

Certified Provider
Service Details
What is an immigration medical exam?
An immigration medical exam is an essential requirement for any individual, regardless of sex or age. Anyone who plans to immigrate to or acquire a permanent residence card (green card) in the United States.
A green card physical is a routine part of the immigration application process. It helps determine the health of an immigrant as per the rules and regulations.
Who can provide an immigration medical exam?
Only USCIS (U.S. Citizenship and Immigration Services) designated civil surgeons can perform these physical exams on immigrants for i693 purposes. Nao Medical has a USCIS on staff that can help to perform your physical exam.
The immigration medical exam is a requirement for applicants wanting to naturalize. Anyone filing for an adjustment of status (I-485) needs this done. Then they can become lawful permanent residents in the U.S. or become a Green Card holder.
About our primary care services
With Nao Medical's primary care, you can either walk in or make an appointment ahead of time. You can visit our urgent care or walk-in medical clinics near you during operating hours. We're open seven days a week and closed only if NYS declares an emergency.
Before booking your appointment please note:
Ensure that your insurance benefits include urgent care or contact us to confirm if your individual/group insurance plan is eligible for use. Please dial 911 immediately if your medical problem appears to be life-threatening.
FAQ
Who can perform an immigration medical exam?
The ones who can perform an immigration medical exam are USCIS-designated civil surgeons.
What happens during an immigration medical exam?
During an immigration medical exam, the civil surgeon will ask about your medical history, existing medical conditions, and vaccination records. You will undergo a full physical, blood tests, urinalysis, and chest x-rays (depending on blood test results).
What should I bring to an immigration medical exam?
You should bring the following items to an immigration medical exam:
Government-issued photo identification, such as passport, driver's license, or any legal IDs
An accomplished Form I-693 Report of Medical Examination and Vaccination Record
List of medications you take
Doctor's recommendation for any special requirement
Payment for immigration medical examination
What happens after an immigration medical exam?
After an immigration medical exam, the immigration will complete and sign the Form I-693 report and seal it in an envelope. This can be mailed directly to the consulate or you can take it there personally. Just make sure that the envelope remains sealed, unopened, and undamaged. Open or tampered envelopes will result in immediate rejection.
How important is an immigration physical?
An immigration physical is very important because certain health issues in immigrants can put potential risk to public safety.
Does my insurance cover an appointment for an immigration exam?
Health insurance plans do not cover immigration visits, you can call and ask your health insurance plan. Health insurance fraud is a federal offense that can cause your citizenship to be revoked in the future.
Home care health services
At home, at work, or wherever you are, Nao Medical will provide you with the care you need at no additional cost. We provide access to personalized medical care to help with your healthcare needs.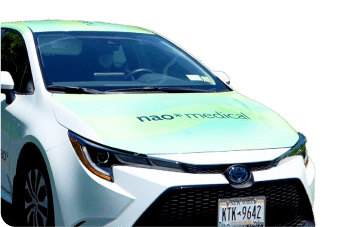 Virtual care
We offer top-tier virtual care that works with your busy schedule. Our virtual care is made to get you quickly connected with a medical provider who will provide you with comprehensive care.
Healthcare coordinator
A free personal medical coordinator to guide you through your healthcare journey that helps with everything from booking appointments to sending you upcoming appointment reminders, and more.

Offer guidance to help you navigate the healthcare landscape

Provide suggestions for healthcare visits that are tailored to your needs


Stay Healthy Nao
Be proactive about your health and stay on top of important preventative appointments.
Nao Medical's Stay Healthy Nao program makes taking care of your health easier than ever.
We know how easy it is to neglect our personal health, with the busyness of daily life often getting in the way. Statistically, people today take more care of their cars and their pets than they do their own health!
But with Nao Medical, taking charge of your personal health has never been easier. With Nao Medical's Stay Healthy Nao program, you get:
[review_slider limit="12" ratings="4,5"]