Certified provider
In and out in 30 minutes
No referral required
+1M Satisfied patients
Open seven days a week, 365 days a year
Full-service After Care department
Awarded Joint Commission Gold Seal of Approval
Service Details
Why is pediatric urgent care service the best to treat allergies?
Nao Medical's pediatric urgent care clinics are open outside of the regular doctor's or pediatrician's office operating hours which means we work well with your busy schedule to ensure you get the flu treatment you need.
How will Nao Medical's pediatric urgent care treat my child's allergies?
Our team of medical experts will take the time to learn about your child's unique case to offer an allergy treatment plan to fit your child's specific needs.
About our pediatric care services
At Nao Medical's pediatric care, we offer expert pediatricians who provide a compassionate approach to help your little ones on their healthcare journey. You can either walk in or make an appointment ahead of time. We're open seven days a week and closed only if NYS declares an emergency.
Before booking your appointment please note:
Ensure that your insurance benefits include urgent care or contact us to confirm if your individual/group insurance plan is eligible for use. Please dial 911 immediately if your medical problem appears to be life-threatening.
FAQ
When should you go to the doctor for allergies?
You should seek medical attention if your allergies are causing chronic sinus infections, difficulty breathing, and severe nasal congestion.
What happens if allergies are left untreated?
Allergies that are left untreated can lead to inflammation and infection, and may eventually lead to more serious issues that will require surgery.
How do you know if an allergic reaction is serious?
An allergic reaction is serious if it involves anaphylaxis symptoms such as difficulty in breathing and speaking, tight throat or closing airways, nausea and vomiting, low blood pressure, hives, trouble swallowing, and passing out, to name a few. If you or someone you know is experiencing these life-threatening symptoms, proceed to the ER immediately.
What is the difference between emergency and urgent care?
The difference between emergency and urgent care is that emergency rooms in hospitals treat life-threatening conditions and injuries, whereas urgent care clinics treat illnesses and injuries that require immediate medical attention but are non-life-threatening.
Can I go to urgent care for non-emergency?
Yes. You can go to urgent care for consultations, physicals, primary care, lab tests, and more.
Can I pay for my urgent care appointment without insurance?
If you have no insurance, we provide our services without insurance for self-pay patients, giving you the care when you need it most.
Home care health services
At home, at work, or wherever you are, Nao Medical will provide you with the care you need at no additional cost. We provide access to personalized medical care to help with your healthcare needs.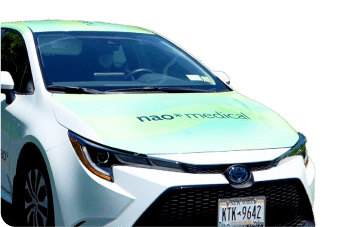 Virtual care
We offer top-tier virtual care that works with your busy schedule. Our virtual care is made to get you quickly connected with a medical provider who will provide you with comprehensive care.
Healthcare coordinator
A free personal medical coordinator to guide you through your healthcare journey that helps with everything from booking appointments to sending you upcoming appointment reminders, and more.

Offer guidance to help you navigate the healthcare landscape

Provide suggestions for healthcare visits that are tailored to your needs


Stay Healthy Nao
Be proactive about your health and stay on top of important preventative appointments.
Nao Medical's Stay Healthy Nao program makes taking care of your health easier than ever.
We know how easy it is to neglect our personal health, with the busyness of daily life often getting in the way. Statistically, people today take more care of their cars and their pets than they do their own health!
But with Nao Medical, taking charge of your personal health has never been easier. With Nao Medical's Stay Healthy Nao program, you get:
[review_slider limit="12" ratings="4,5"]