+1M satisfied patients

Open seven days a week, 365 days a year

In and out in 30 minutes

OSHA-approved guidelines

CDC-approved guidelines

Certified medical provider
Service Details
Nao Medical sports physicals
Our Nao Medical medical providers can offer you medical sports physicals for you if you're an athlete or your child needs to prepare for camp or a sports program. This pre-participation physical also allows the medical staff to identify any medical condition as well as find anything in the participant's medical history that might keep the athlete from the game.
About our primary care services
With Nao Medical's primary care, you can either walk in or make an appointment ahead of time. You can visit our urgent care or walk-in medical clinics near you during operating hours. We're open seven days a week and closed only if NYS declares an emergency.
Before booking your appointment please note:
Ensure that your insurance benefits include urgent care or contact us to confirm if your individual/group insurance plan is eligible for use. Please dial 911 immediately if your medical problem appears to be life-threatening.
FAQ
Why get a sports physical?
With millions of kids participating in sports each year, knowing that your athlete is healthy enough to compete is the first step in getting ready for the big game. A pre-participation physical examination is required by most schools and many children's athletic leagues to guarantee that each kid is healthy enough to safely participate in his or her chosen activity.
Expectations during your sports physical exam
It is important to know what transpires during a sports physical examination. The following is a broad outline of what to expect during your child's sports physical.
Medical history discussion:
A history of major sickness in the family
Illnesses in the past and present
Allergies
Surgery and/or hospitalizations in the past
Injuries suffered previously
Prescription medications from the past and present
Does my insurance cover my sports physical?
At Nao Medical, we accept most major insurance plans, but in order to know if your plan covers the test, we would need to run your insurance and this can only be done at the beginning of your visit. If you would like to know ahead of time, please call the number on the back of your insurance card so a representative may let you know which coronavirus test is covered by your insurance plan.
Home care health services
At home, at work, or wherever you are, Nao Medical will provide you with the care you need at no additional cost. We provide access to personalized medical care to help with your healthcare needs.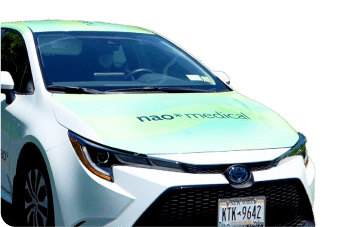 Virtual care
We offer top-tier virtual care that works with your busy schedule. Our virtual care is made to get you quickly connected with a medical provider who will provide you with comprehensive care.
Healthcare coordinator
A free personal medical coordinator to guide you through your healthcare journey that helps with everything from booking appointments to sending you upcoming appointment reminders, and more.

Offer guidance to help you navigate the healthcare landscape

Provide suggestions for healthcare visits that are tailored to your needs


Stay Healthy Nao
Be proactive about your health and stay on top of important preventative appointments.
Nao Medical's Stay Healthy Nao program makes taking care of your health easier than ever.
We know how easy it is to neglect our personal health, with the busyness of daily life often getting in the way. Statistically, people today take more care of their cars and their pets than they do their own health!
But with Nao Medical, taking charge of your personal health has never been easier. With Nao Medical's Stay Healthy Nao program, you get:
[review_slider limit="12" ratings="4,5"]