Certified provider
No referral required
+1M Satisfied patients
Open seven days a week, 365 days a year
Full-service After Care department
Awarded Joint Commission Gold Seal of Approval
Service Details
About urgent care for work clearance
A CDL physical is the medical exam required to obtain your commercial driver's license. Also known as the DOT physical, the point of the physical exam is to determine your fitness to perform your job.
The demands of a commercial driving job can take a toll on your body and your health, so the Department of Transportation created a standardized test to keep you, and others on the road, safe.
About our urgent care service
With Nao Medical's urgent care, you can either walk in or make an appointment ahead of time. You can visit our urgent care or walk-in medical clinics near you during operating hours. We're open seven days a week and closed only if NYS declares an emergency.
Before booking your appointment please note:
The prices shown does not include any labs or tests. Ensure that your insurance benefits include urgent care or contact us to confirm if your individual/group insurance plan is eligible for use. Please dial 911 immediately if your medical problem appears to be life-threatening.
FAQ
What are DOT/CDL physicals?
A DOT CDL physical is a health exam required by the Federal Motor Carrier Safety Administration (FMCSA) to check if a driver is physically, mentally, and emotionally fit to operate a commercial motor vehicle (CMV).
What should drivers do to prepare for CDL physicals?
CDL physical patients should avoid caffeinated drinks like coffee and soda, reduce salt and sugar intake, make a list of medications you take, bring eyeglasses or contact lenses if you use them, bring hearing aids if you use them, and provide the examiner with updated information about your medical history.
Who needs a CDL medical card?
You need a CDL medical card if you drive a CMV that transports hazardous materials, carries more than 8 or 15 passengers, or operate a vehicle with a gross weight of over 10,000lbs.
Do you have to pee in a cup for a CDL physical?
Yes. You have to pee in a cup for a CDL physical but only for screening the kidneys for possible medical issues. Drug testing a urine sample is not a requirement for a CDL physical exam.
Can I eat before a CDL physical?
It is recommended that you do not eat a big meal before a CDL physical exam, especially if you are a diabetic. A large meal may lead to abnormal urinalysis results.
What does a driver's license physical exam cover?
The driver's license physical exam covers a few routine tests. The DOT-certified physician wants to make sure that you are healthy enough to do the job of a commercial driver. That does not mean you need to be in the best shape of your life, but you will have to pass some tests.
The CDL physical includes a test of your vision, and hearing, and also requires a urine sample. The physical exam also involves a medical review of your heart and blood pressure. Drug tests may be applicable upon request of the employer.
How do I pay for my CDL Physical?
Unfortunately, insurance does not cover your CDL physicals. However, we offer special pricing on our CDL medical exams.
Come in for your test, and any vision and hearing help you might need and it will only cost you $125. High-quality care at an affordable price is what we believe at Nao Medical. There will be an additional $10 charge for federal reporting
At Nao Medical, our DOT medical examiner will perform a DOT physical exam and give you the medical examiner certification for the following: 
New Commercial Driver's License (CDL) for truck drivers driving trucks and school bus drivers (Article 19A)
NYC taxi and limousine drivers (NYC TLC Certificate)
Renewal of existing NYS Commercial Driver's License (CDL)
.
Are urgent care centers open after hours?
Yes. Most of our urgent care centers are open after hours, making health care more accessible for all residents in NYC.
Should I make an appointment for urgent care?
Not necessarily. Most urgent cares accept walk-in patients. But if you want shorter wait times, you can book an appointment through phone or online.
Home care health services
At home, at work, or wherever you are, Nao Medical will provide you with the care you need at no additional cost. We provide access to personalized medical care to help with your healthcare needs.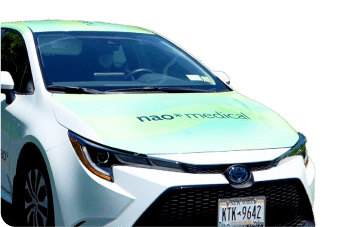 Virtual care
We offer top-tier virtual care that works with your busy schedule. Our virtual care is made to get you quickly connected with a medical provider who will provide you with comprehensive care.
Healthcare coordinator
A free personal medical coordinator to guide you through your healthcare journey that helps with everything from booking appointments to sending you upcoming appointment reminders, and more.

Offer guidance to help you navigate the healthcare landscape

Provide suggestions for healthcare visits that are tailored to your needs


Stay Healthy Nao
Be proactive about your health and stay on top of important preventative appointments.
Nao Medical's Stay Healthy Nao program makes taking care of your health easier than ever.
We know how easy it is to neglect our personal health, with the busyness of daily life often getting in the way. Statistically, people today take more care of their cars and their pets than they do their own health!
But with Nao Medical, taking charge of your personal health has never been easier. With Nao Medical's Stay Healthy Nao program, you get:
[review_slider limit="12" ratings="4,5"]