Certified provider
In and out in 30 minutes
No referral required
+1M Satisfied patients
Open seven days a week, 365 days a year
Full-service After Care department
Awarded Joint Commission Gold Seal of Approval
Service Details
Urgent care for sore throat
Sore throat can be quite uncomfortable and may interfere with daily activities. Fortunately, it can be treated at an urgent care clinic. If you seek quick relief, Nao Medical offers fast, efficient, and cost-effective treatment and care at all our locations in NYC.
About our urgent care service
With Nao Medical's urgent care, you can either walk in or make an appointment ahead of time. You can visit our urgent care or walk-in medical clinics near you during operating hours. We're open seven days a week and closed only if NYS declares an emergency.
Before booking your appointment please note:
Ensure that your insurance benefits include urgent care or contact us to confirm if your individual/group insurance plan is eligible for use. Please dial 911 immediately if your medical problem appears to be life-threatening.
FAQ
Most sore throats are caused by viruses, like a cold or flu. Other causes are allergies, exposure to pollution, mouth-breathing during sleep, and smoking. More serious sore throats include tonsillitis, strep, and the kissing disease (mononucleosis).
How long does a sore throat take to go?
Sore throats caused by common viruses may last three to ten days and will resolve on their own. More serious types may last longer even with treatment.
When should I be concerned about a sore throat?
A sore throat often improves with or without at-home treatment. But if it's accompanied by a fever that reaches 101°F or more, sleeping problems, or a red rash, you should see your doctor immediately.
Should I go to urgent care if it hurts to swallow?
If it hurts to swallow and it interferes with eating and talking, you should seek medical care so a doctor can prescribe medication to relieve or treat sore throat.
When is a sore throat an emergency?
A sore throat can be considered an emergency if you're having trouble breathing and if you're experiencing a very high fever.
What is the difference between emergency and urgent care?
The difference between emergency and urgent care is that emergency rooms in hospitals treat life-threatening conditions and injuries, whereas urgent care clinics treat illnesses and injuries that require immediate medical attention but are non-life-threatening.
Are your urgent care centers open after hours?
Yes. Most of our urgent care centers are open after hours, making health care more accessible for all residents in NYC.
Should I make an appointment for urgent care?
Not necessarily. Most urgent cares accept walk-in patients. But if you want shorter wait times, you can book an appointment through phone or online.
Can I go to urgent care for non-emergency?
Yes. You can go to urgent care for consultations, physicals, primary care, lab tests, and more.
Can I pay for urgent care appointment without insurance?
If you have no insurance, we provide our services without insurance for self-pay patients, giving you the care when you need it most.
Home care health services
At home, at work, or wherever you are, Nao Medical will provide you with the care you need at no additional cost. We provide access to personalized medical care to help with your healthcare needs.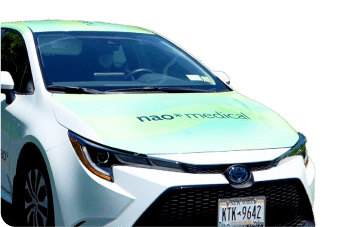 Virtual care
We offer top-tier virtual care that works with your busy schedule. Our virtual care is made to get you quickly connected with a medical provider who will provide you with comprehensive care.
Healthcare coordinator
A free personal medical coordinator to guide you through your healthcare journey that helps with everything from booking appointments to sending you upcoming appointment reminders, and more.

Offer guidance to help you navigate the healthcare landscape

Provide suggestions for healthcare visits that are tailored to your needs


Stay Healthy Nao
Be proactive about your health and stay on top of important preventative appointments.
Nao Medical's Stay Healthy Nao program makes taking care of your health easier than ever.
We know how easy it is to neglect our personal health, with the busyness of daily life often getting in the way. Statistically, people today take more care of their cars and their pets than they do their own health!
But with Nao Medical, taking charge of your personal health has never been easier. With Nao Medical's Stay Healthy Nao program, you get:
[review_slider limit="12" ratings="4,5"]