Trained NYC IV Infusion specialists

Certified provider
At-home option available 
Customized IV Infusion options 
No referral required
+1M Satisfied patients
Open seven days a week, 365 days a year
Full-service After Care department
Awarded Joint Commission Gold Seal of Approval
Service Details
About the Get Energized Nao IV infusion
This iv infusion gives you a boost of energy - helping you recharge after strenuous activity or a period of high stress! (The B Vitamins) will help kickstart your system by  allowing you to feel energized.
About our IV infusion drip service?
We know that life gets busy, so we created a service that allows you to get the essential vitamins whenever you need them, wherever you need them. Plus, your infusion drip service can be done from the comfort of your home, or feel free to walk into any of our Nao Medical urgent care clinics.
What other kinds of IV Infusion drips do you offer?
Our IV Infusion drips are curated and customized to fit the unique needs of each individual with ingredients and essential vitamins needed for optimized health, vitality, and wellbeing. We offer the following: Feel better nao (hangover), Boost immunity nao (immunity), and Glow up nao (beauty).
FAQ
How much is IV therapy in NYC?
Nao Medical's IV Infusion therapy prices start at $299 and up in the clinic and $499 and up for at home infusions
Yes, IV drips are worth it. Since they can be customized for your specific health needs you can easily restore the key vitamins and hydration your body needs to function. It takes less than 30 minutes for the service to be done.
Can my IV therapy be done at home?
Yes, you can get your IV therapy/drip done at home.Experience the benefits of IV therapy in the comfort of your own home. Nao Medical offers an At-Home service where our medical experts come to you. For now this is only accessible to patients throughout the Nassau County.
Can I pay for IV infusion appointment without insurance?
If you have no insurance, we provide our IV infusion services without insurance for self-pay patients to give access to our services to anyone in need.
Home care health services
At home, at work, or wherever you are, Nao Medical will provide you with the care you need at no additional cost. We provide access to personalized medical care to help with your healthcare needs.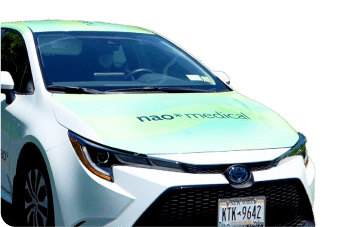 Virtual care
We offer top-tier virtual care that works with your busy schedule. Our virtual care is made to get you quickly connected with a medical provider who will provide you with comprehensive care.
Healthcare coordinator
A free personal medical coordinator to guide you through your healthcare journey that helps with everything from booking appointments to sending you upcoming appointment reminders, and more.

Offer guidance to help you navigate the healthcare landscape

Provide suggestions for healthcare visits that are tailored to your needs


Stay Healthy Nao
Be proactive about your health and stay on top of important preventative appointments.
Nao Medical's Stay Healthy Nao program makes taking care of your health easier than ever.
We know how easy it is to neglect our personal health, with the busyness of daily life often getting in the way. Statistically, people today take more care of their cars and their pets than they do their own health!
But with Nao Medical, taking charge of your personal health has never been easier. With Nao Medical's Stay Healthy Nao program, you get:
[review_slider limit="12" ratings="4,5"]