+1M satisfied patients

OSHA-approved guidelines

In and out in 30 minutes

CDC-approved guidelines

Tri-state leader in COVID-19 testing
Service Details
What is a chicken pox vaccine?
Most commonly known as chickenpox, varicella is a highly contagious viral disease and is a common illness among kids under 12 years old. It can affect all parts of the body. Children receive two doses of the varicella vaccine.
The first dose is given at 12 to 15 months of age. The second dose is given before the start of kindergarten at 4 to 6 years of age. Adolescents and adults 13 years of age and older who have never had chickenpox or been immunized against it should get two doses, at least 28 days apart.
About our primary care services
With Nao Medical's primary care, you can either walk in or make an appointment ahead of time. You can visit our urgent care or walk-in medical clinics near you during operating hours. We're open seven days a week and closed only if NYS declares an emergency.
Before booking your appointment please note:
Ensure that your insurance benefits include urgent care or contact us to confirm if your individual/group insurance plan is eligible for use. Please dial 911 immediately if your medical problem appears to be life-threatening.
FAQ
What are the three stages of chickenpox?
The three stages of chickenpox are:
Stage 1 – appearance of small spots anywhere in the body
Stage 2 – the spots fill with fluid and become blisters
Stage 3 – the blisters become scabs
How long does chickenpox last?
Chickenpox usually lasts about four to seven days.
Do you have to isolate with chickenpox?
You have to isolate chickenpox because it's infectious. Stay off work and stay home until you are sure that you are no longer contagious. Stay away from pregnant women and newborn babies.
When is chickenpox most contagious?
Chickenpox is most contagious during the first two to five days of being sick, which is one to two days before rashes start showing. This means you could be spreading chickenpox before you even know you have it.
Can you get chickenpox twice?
You can get chickenpox twice but it's very rare. Most people who had it once are immune to it forever. Sometimes, the virus reactivates in other people and causes shingles.
Home care health services
At home, at work, or wherever you are, Nao Medical will provide you with the care you need at no additional cost. We provide access to personalized medical care to help with your healthcare needs.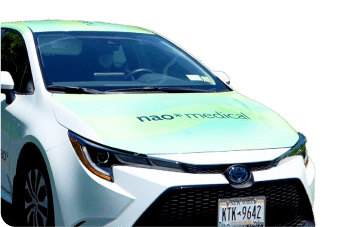 Virtual care
We offer top-tier virtual care that works with your busy schedule. Our virtual care is made to get you quickly connected with a medical provider who will provide you with comprehensive care.
Healthcare coordinator
A free personal medical coordinator to guide you through your healthcare journey that helps with everything from booking appointments to sending you upcoming appointment reminders, and more.

Offer guidance to help you navigate the healthcare landscape

Provide suggestions for healthcare visits that are tailored to your needs


Stay Healthy Nao
Be proactive about your health and stay on top of important preventative appointments.
Nao Medical's Stay Healthy Nao program makes taking care of your health easier than ever.
We know how easy it is to neglect our personal health, with the busyness of daily life often getting in the way. Statistically, people today take more care of their cars and their pets than they do their own health!
But with Nao Medical, taking charge of your personal health has never been easier. With Nao Medical's Stay Healthy Nao program, you get:
[review_slider limit="12" ratings="4,5"]